Power CV Templates, CV Writing Techniques and
Covering Letters to Save You From the
Employer's Trash Bin...



24th June, ExpatsDirect.Com Career Desk

Dear Jobseeker,

Ever been in a situation where you need a CV real fast for a crucial job application, but simply do not have the time to get it done in time? Or you don't have the time or the ability to format your CV to make it look attractive and appealing despite its good content? Or your CV content just simply does not seem to be appropriate or targeted for the job you are applying for?

Yes, sounds familiar. But it gets harder still...



You only have 5-10 seconds to impress!


You might be surprised to know that you only have between 5-10 seconds at the most to impress and be shortlisted. In those 5-10 seconds, it is not necessarily the most qualified person who will be put in the shortlist pile, but it is the one who is the best at being able to get noticed by his or her CV.

A winning CV requires a combination of good content and attractive appearance with clever formatting.

It is an established fact that recruiters look for any reason to dismiss CVs as the first stage of processing the hundreds of CVs they often receive. If a CV does not impress at first glance, its going to get trashed.

Having been in the recruitment industry for many long years, here is something we want to share with you about the process by which you are eliminated from the shortlist...



Four Steps a Recruiter Takes to Trash Your CV...

Having 200-300 CVs or resumes to analyse, a tight schedule, and probably working late, an employer's or recruiting manager's approach is to scan the huge pile quickly and look for any little reason to trash your CV or resume.

The scenario described above of a recruiting manager or employer is fairly typical. With hundreds of CVs or resumes, little time, and the pressure of identifying the best person for the job, the strategy a recruiter takes is to first eliminate all those who show any little sign of being worthy of elimination. And the basis of that is your CV and resume, highlighting the great importance attached to this one or two page document.

So what happens when the pile of 300 CVs and resumes are put in front of the recruitment manager? Well there are three main steps, which are taken to filter the pile. Filtering is needed to choose appropriate candidates for the interview stage. So those not worthy of being interviewed have their CVs or resumes trashed. Let's take a look at them one by one.

The First Stage: The 5-10 Second Glance

The recruitment manager is not going to spend minutes going through each CV or resume to find what he is looking for. Rather, his first step is to spend at the most 10 seconds to take a quick glance at mainly the first page and the following page(s) if the first page interests him. So the process of elimination begins with the following:
Any CV or resume which is longer than 4 pages will be trashed. This is generally the case, unless the employer requires a detailed career history. But most CVs are no longer than three pages, and as for resumes they should be shorter. So the recruitment manager will not be bothered reading anything over 4 pages.


Any CV or resume that does not have a profile, or objective or similar paragraph and an easy discernible list of skills on the front page will get trashed. The recruitment manager does not want to start scanning your CV or resume to see if he can find where your skills and achievements are, or what you are qualified to do. You are supposed to present that to the recruitment manager using your career marketing tool, the CV or resume.


Any CV or resume which is written in long sentences and lengthy paragraphs and where a quick glance does not allow the identification of relevant information, such as skills and achievements will get trashed. The recruitment manager is not there to read essays or novels.


Any CV or resume which is annoying. This is mainly due to bad formatting. Things such as using many different fonts and font sizes, cluttering the information with little white space, making it harder to read. Also the use of excessive underlining, bold and italics, in combination. All of these matters make the CV or resume difficult to read and follow and annoys the recruitment manager.
By now the recruitment manager has gladly trashed 70% of all the pile and is left with around 80-90 CVs or resumes. Happy with the time he has saved, he or she can now spend a little more quality time scanning what remains.
The Second Stage: 10-15 Second Glance at the First Page
At this point, the recruitment manager is looking for what is specifically relevant. This requires a match between the skills required for the job and the skills and achievements presented by you. So without really looking at your or CV or resume in too much detail, he simply wants to identify what have you got to offer and does it match his or her organisation's requirements. He or she will be looking to identify this on the first page and without having to try hard to locate this information. The match could be general or it could be specific. But because the recruitment manager is only interested in a general match, spending a relatively small amount of time (10-15 seconds) in gauging this, he will include CVs or resumes at this stage which will still be filtered later. By now there around 40 CVs or resumes that remain, about half from the first stage of filtering.
The Third Stage: Short Listing for the Interview Stage
Here the recruitment manager spends a little more time, and picks out those CVs and resumes that have a specific match, or a very close match to the job requirements, and these are considered potential candidates. Here, the method of the recruitment manager has changed from elimination of irrelevant CVs and resumes to picking out highly relevant and quality matches. So after this stage, about two-thirds of the remaining pile will be discarded and we have around 15 CVs or resumes that remain.
The Fourth Stage: Picking Candidates from the Short List
It is only at this point that the recruitment manager will now look in more detail and go beyond the first page of the CV or resume to pick candidates from the short list. There are a number of factors that the recruitment manager will be focusing upon, however the two most important of them are:
What achievements has the candidate demonstrated from previous jobs


What makes the candidate stand out from the others
After looking at these factors, the final interview list will be prepared which can be less than 5 candidates. So, have you got a CV or resume that will survive these four steps? The reality of the recruitment process shows that you need a targeted and focused CV or resume that not only grabs attention by showing a skills match, but is also crafted, worded and formatted to give you an edge over other candidates.


This is indeed the typical selection process that takes place. If you want to apply for your dream job and don't want to miss out, you don't want to be fumbling around trying to rush your CV. It is vital to not only grab attention with an attractive and eye-catching format, but also to please and satisfy the employer by providing appropriately written content that is targeted to the job.

For most people this can be a daunting and worrying task, because it requires effort, creativity and some specific know-how regarding the CV writing process.

Well, worry no more...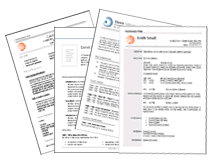 Our career package, which includes a number of great additional bonuses, will solve your problems, get you to the interview and make sure you perform greatly, leaving the potential employer deeply impressed.

You can take the worry and frustration out of job applications by having a professional and eye-catching CV ready at all times. The templates are designed to be eye-catching, professional, easy to read, with plenty of white space to avoid clutter (something employers hate). There is also an element of psychology behind these templates in that they are based upon the natural eye-movement and scan-reading that is performed by those who browse CVs with a view to eliminate and select. Further, if you are new to writing CVs, some of the templates contain in-page instructions as to what you should write and where to write it and how to write it.


Subject: Re: Interview Guide
Hi, Got the job today - first interview. CV went down really well - only one page long - perfect..

Regards,
Leanne (Australia)
7th April 2005 13:01
Thanks for letting me know. Thanks also to the whole team there, as I have now found a great job, due in no small way to the aid of the CV templates I purchased from you in November.

Warmest regards,
Alexander Miller
14 February 2005 17:38
The CV Package Benefits:
Power Templates designed to impress and save you from the trash bin!
Including Chronological and Skills-Based (Resume) Formats - flexible formats allowing you to target jobs in different ways.
Clean, crisp designs, appealing to look at.
Suitable for all career levels, just edit and add your own custom headings.
Save hours and hours of valuable time!
Receive expert CV writing instructions and techniques with the additional bonus articles!
Learn how to write quality content including profiles that impress, achievement statements that pack power, and covering letters that convince!

What makes a great CV?

There are two key ingredients to a powerful and compelling CV. The right content, which has to be targeted for the job in question, and an attractive appearance which catches the eye. Don't be led to believe that just by having a great looking CV you will be successful. You must also have the appropriate content to be shortlisted for an interview. Do not be misled wild claims that having a flashy CV will win you the job. Sure it might get you noticed, but that's only half of the story.

Let's face it - employers know what they want in a job candidate. A visually attractive CV on its own is not going to win over the employer if you have failed to demonstrate that you are the best person for the job by writing appropriate content. This is why you need more than just wonderfully attractive templates.


Hello, I used one of your templates recently and it really impressed one of the recruiters I submitted my CV to. The templates are designed very well. I wasn't aware of many of the design and eye-movement issues behind writing a CV, and it seems that your templates have managed to bring together a perfect match between appearance, content value and readability. The variation in the CV templates allowed me to mix and match styles and titles to create a strong CV. I'd like to say thanks for a quality product!

Shuwaz Dar
12th December 2004

The CV Templates...

The CV Template package contains 12 templates. A number of different formats (chronological, functional (skills-based) and chrono-functional) have been used across the templates, allowing flexibility in CV writing approaches and the ability to target jobs more effectively.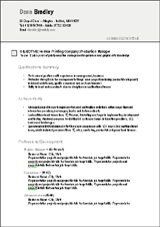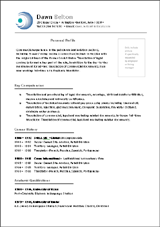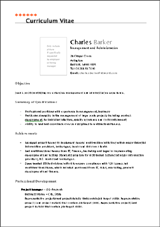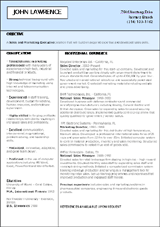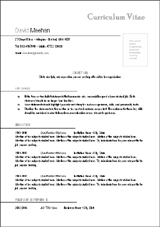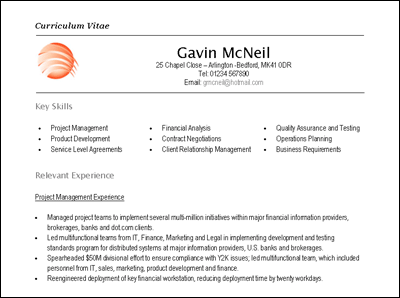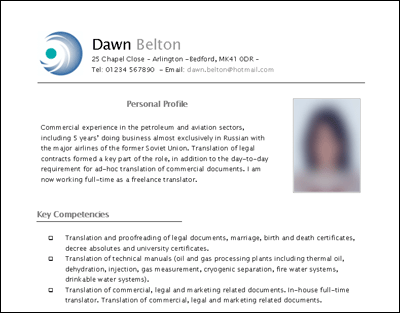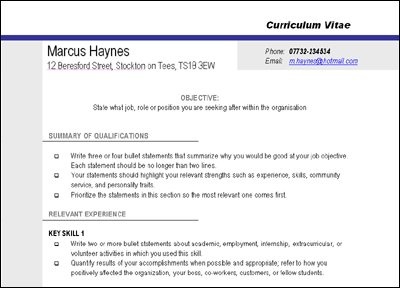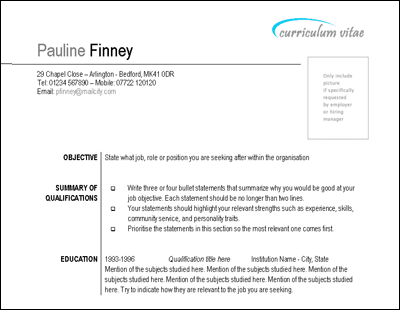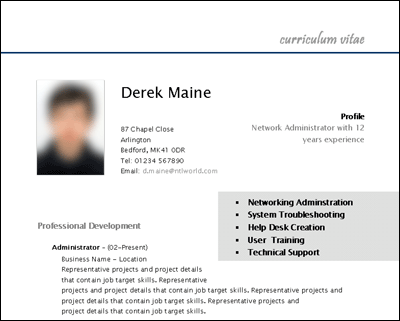 Each of the templates has a particular style and is designed to allow you to have the greatest flexibility in choosing what you want the employer to see first, or remember about you. The design has been kept clean and crisp, and you can lengthen the CV by adding your own titles and headings as you see fit. Whether you have an established career history, are changing career, or have skill sets that make you highly employable in your sector, you will find in these templates what will allow you to highlight all of that.


My CV now looks more impressive than it ever has been.

Lata Chandy
5th March 2005

But How Many Templates Do You Need?

Yes, we are sure you have seen them as well... you can buy 50 templates, or 200 templates, and even 500 templates - for a cheap price. But lets be practical, are you going to spend all that time trying to figure out which of those hundreds of cheap samples you are going to use? We have decided to include no more than 10-12 quality templates in our package because this allows you to be focused.

The templates contain a mixture of different format styles and are designed to stand out. You can choose something that is reasonably attractive from a visual standpoint and which will definitely catch the eye of the employer. And once the visual element has been sorted, you really need to focus on writing quality content and presenting it effectively..

Let us say this loud and clear...



Quality, Targeted Content is What Matters Most...


You need to really comprehend and remember the above statement.

You can have a brilliant flashy CV template, but if your content is not right, you will fail. For this reason, we are not interested in just dumping you with 50, 100 or even 500 templates, leaving you lost and wondering where to start! This would be very unscrupulous! We want you to know how to write high-quality targeted CVs.

We want you to have this knowledge so you can beat the other candidates and succeed.

It is a proven and well-researched fact that it is the person who is able to implement this knowledge best who will have the greatest chance of getting the job - and not the necessarily person who is the most qualified (see the quote from the Census Bureau further down).


From: "Shuwaz Dar"
To: "cv.desk"
Subject: Re: Thanks for a quality product!
Update: Hey! I got the job! Only three weeks after I used the CV templates and the knowledge to create a highly targeted CV for my job area, I won the job. Not only that, I have been offered a higher paid job within the same organisation after three months of trial employment for the first job. I have been employed by IBM. One thing that I feel it is important to mention again is what the recruiter said to me about my CV, "...it stood out amongst all the others". I'd like to thank you for making an invaluable tool, it is extremely powerful. I will be using the site again in the future.

Shuwaz Dar
7th January 2005
Hello! Yesterday I did the first interview of my life. Regards.

N. Bombiti
19th November 2004
Thanks... I have prepared a great CV that caught the attention of my present employer

Agnieszka Wrzesien, Poland
4th March 2005


So What About Your Content?

As the saying goes, "content is king". You need to know how to write good content.

The knowledge of how to write one's CV data is what separates the winners from the losers. This is a fact.

The following is a quotation from the Census Bureau after conducting a survey of 10 million job seekers in order to identify successful job hunting tactics:
"The skills that make a person employable are not so much the ones needed on the job as the ones needed to get the job, skills like the ability to find a job opening, complete an application, prepare a resume, and survive an interview."
Therefore, the key is knowing how to effectively market yourself and to get yourself noticed. This requires a combination of good CV format and layout and of course effective presentation and writing of the actual content. Relevant and appropriate content is of utmost importance to your CV. Attractive templates are only a part of your success.



You will fail if there is no quality content on your CV!


Lets face it, most people are not expert CV writers. At best, you may be able to create an attractive CV template, but do you know how to write highly targeted CVs? Do you know the techniques and methods used by CV writing professionals that seem to produce results time and time again? The answer for most people is "No!". To give you complete and comprehensive help and to give you a competitive edge over your competitors, we are happy to share some of our expert knowledge and instruction in our E-Book and some great additional bonuses available only for a limited time...

E-Book With Expert Instruction...

From our extensive experience in careers and processing thousands of CVs, we have put together a brief and concise guide that brings together the most vital steps in putting together what is known in the industry as a highly targeted CV. A highly targeted CV is aimed at providing an extremely strong match between your skills and achievements and those required for the job. Highly targeted CVs always win interviews.

This guide is our highly practical and instructional E-book on writing effective CVs. We have broken down the entire CV writing process into the most important areas of writing effective and winning CVs. This should make sure you know exactly what you are doing and will give you the basic and proven methodology for creating highly-targeted CVs. Writing such CVs does have a precise methodology and it can be implmented by anyone, provided they are equipped with the right knowledge. If you follow the steps in this guide, and apply the knowledge in the bonus articles, you will definitely start seeing good results.



Excellent guide on how to write CVs and Resumes, "The Complete CV Writing Guide - How To Write Killer CVs"

In a clear and concise fashion, you will learn some of insider tips and techniques with which to create high impact and targeted CVs and resumes.

Structured in easy to follow steps, this 60 page guide will give you a proven methodology to write effective CVs and Resumes.

Includes:


Step 1:
Knowing yourself
Your CV is your ultimate marketing tool. So it is important to know exactly what you are marketing and selling. It is vital that you have a thorough understanding of you skills, knowledge, experience and achievements. This understanding and knowledge is the repository from which you can pick qualities, skills and achievements to demonstrate that you have what it takes to fulfill the requirements of the job.


Step 2:
The Four Types of Information Vital for Every CV
In essence, this relates to what you have to offer, and this should be apparent from your skills audit. Almost every job requires a combination of four types of qualities or skills. For this reason you must ensure that in the way that you craft your CV, elements of these four types of qualities or skills must come across strongly...


Step 3:
Knowing the Job
Knowing the job you want has two stages. Firstly, knowing the company, and secondly knowing what the job requires. It is important to know about the company because it provides an understanding of the context in which the job operates. For example, a position in a small privately owned business will require different skills and aptitudes to a similar position with the same job title in a large multi-national organization.


Step 4:
Making the Match
Making the match is what it is all about. The match is between the skills required for the job and the skills you have to offer. Unless you can demonstrate a strong match in your CV, then you are unlikely to be picked for an interview.


Step 5:
Putting it all Together
We have now reached the stage where you can start putting it all together. By this point you should have the groundwork in place to write a CV with the right content. The following are some of the main issues that should be considered when putting together your CV...


Step 6:
Style and Presentation
When the employer or recruiting manager looks at your CV, it must generate interest and also be pleasing to look at. Not only does the content have to be relevant and targeted, the look and feel must also be right. You may have the best content, brilliantly written, but if your CV is not aesthetic and pleasing to look at, it might simply get rejected. There are three main issues regarding style and presentation...


Step 7:
Review and Improvement
When you have put it all together and you have something to look at, there will always be room for improvement. You can use the following factors to review and improve your CV or resume...


Step 8:
Answering Key Questions To Make Your CV Impressive
Answering these questions will help you to present a clear, strong and more memorable image of your skills and achievements. Since the content of your CV or resume determines its effectiveness, it is worth your while to really think about ways in which these questions relate to you. With these questions you will rewrite, improve and update the information gathered from your skills audit.


Step 9:
How to Energise and Quantify Sentences
Learn how to create a better impact by using efficient sentence structure and content. Quantifying your experience with appropriate facts and figures helps to create a better impression.


Step 10:
Using Job Titles And Skill Headings Effectively
The use of appropriate job titles or skill headings is a crucial part of the CV or resume. These titles or headings are one of the major factors in your image projection to the employer. It is crucial therefore that you know and understand the impact that job titles can have on employers.


Step 11:
Writing Outstanding Career Objectives
The career objective should be short and may consist of up to a few sentences. It should include two pieces of information. The position you are seeking and what experience or skills you possess that qualify you for this position.


Step 12:
How to Deal with Gaps in Employment
To employers unfortunately, gaps in employment history can raise questions such as "This person has a problem", or "There might be something to hide here", "This person is not dedicated or serious" and so on. To remove any negative thoughts in the mind of the potential employer or hiring manager, you will need to address these gaps in your employment.


Step 13:
Why is a CV or Resume Rejected?
There are many reasons why your CV or resume can be rejected. Some of the most common reasons are covered in this section. Make sure you avoid them!




Great Additional Bonus Articles To Help You With Excellent CV Content

There are other techniques and methods that relate to more specific aspects of CV writing. Again, it would be unscrupulous for us not to share this expertise with you, since the aim is to equip you with all the knowledge and techniques to make sure you succeed.

For a limited time only, you will receive the following great additional bonuses. The following articles give you expert instruction on how to write excellent profiles, powerful achievement statements, compelling covering letters and how to address any potential weaknesses you may have.

If you order today you will benefit from the following great bonuses...


-- FREE BONUS! #1
The Key to Writing Effective and Attention Grabbing Profiles


A personal profile is short paragraph at the beginning of a CV summarising your main selling points. This part of a CV summarises the most important skills, knowledge, experience and aptitudes you have to offer a potential employer. Get it wrong and the recruiter will not even bother to read the rest of your CV. An extremely important and must have guide on how to write effective profiles. Your's Free!

-- FREE BONUS! #2
Gain a Strong Competitive Edge by Knowing How to Write Powerful Achievements on Your CV and Resume


In the recruitment process, there are several stages before the employer chooses a candidate. Before the final stage, which is the stage of interviewing, there are usually from 2 to up to 15-20 candidates who might be shortlisted. These candidates will have been shortlisted from a larger list because their CVs or resumes stood out and provided them with a competitive edge over other candidates. Your's Free!

-- FREE BONUS! #3
The Killer Technique of Strategically Embedding Keywords To Boost the Effectiveness of CVs and Resumes


With the advancement of technology and the use of databases to store candidate CVs and resumes, employers are increasingly depending upon keywords to find suitable job candidates. The Internet has made the hiring process a lot easier for employers and recruiters who upon receiving CVs and resumes, simply dump them into their growing database. Keyword searching for relevant phrases or skills can then be performed to find an initial pool of prospects... Your's Free!

-- FREE BONUS! #4
Power list of over 500 action words ordered into categories in alphabetical order.


You can use this list to make your CV "achievement oriented" - something that will make you stand out from all the other candidates. Most people fail to realise that where the applicants skils and qualifications are equal, it is the achievements that will make one person stand out over the others. Gain a head start by collecting and identifying all the power verbs to highlight your achievements. Your's Free!

-- FREE BONUS! #5
A guide on how to deal with your weaknesses.


In short-listing for interview, some recruiters take the approach of looking for reasons not to select you for interview, as opposed to looking for reasons to select you. This is why identification of perceived weaknesses is important. So far as CV writing is concerned, you need to be aware of areas which a recruiter might regard as being a weakness that could have an adverse impact on the success of your application.

Congratulations, You've Got a Competitive Edge Over Most People!

The problem with most people is that when they are required to write a CV, as soon as they have any information, they start filling out their CV - without knowing that at best, this information is only raw data that needs to be revised and edited. Remember, it is not the person who is most qualified that will get the job, but the person who has the knowledge of how to write an attractive and compelling, highly-targeted CV. This requires knowledge of the techniques used by professional CV writers who are so successful at what they do.


It's an excellent step-by-step guide for creating concisely targeted and professional CV's.

John Deneen, USA
4th March 2005
Dear Sir/Madam, Thank your very much for the valuable tips I learned lot and successfully obtained a fixed term contract with one of the [renowned] development organizations here in Nepal. More after further development.
Thank you very much.

Bishow Raj Bhatt.
21st November 2004
I am now in line for a top rate position with an international company. It worked for me. I had several calls to interviews after I followed the tutorial. Now I'm in line for an excellent position. Thanks

Nik Garnett, UK
4th March 2005
...helped me complete a successful cv leading to a promotion into upper management of education. Thanks...

William Douglas, UK
6th March 2005

With the knowledge in the articles above, you will have a considerable advantage over most people in knowing how to transform raw CV data into a highly-efficient personal marketing tool, which is your CV.

Wait... After Writing a Great CV You Also Need a Great Covering Letter!!



AMAZING FACTS ABOUT COVER LETTERS


Fact #1: Your cover letter is your one-page sales letter!

Yes, this one page document is your chance to sell yourself to the employer. The nature of your CV is that it will always contain information irrelevant to the post, however the covering letter can be used to focus purely on why the employer should hire you and the specific benefits you will bring to their organisation. Your covering letter is your sales pitch, so you need to know how to market yourself!

Fact #2: Your cover letter is more important than your CV!

The covering letter actually gives the first impression. It can be used to direct the employer to the relevant facts on the CV. If you are not able to get the employer's attention and interest them immediately, they will not be motivated to look at your CV, and it will end up in the trash bin.

Fact #3: Personalisation is the secret weapon

Personalizing the opening part of the letter to each company will ensure that you stand out from the rest of the candidates and will also enhance your chances of winning the job greatly. Most people just use standard templates which employers simply get accustomed to. They trash the covering letter because there is nothing outstanding or original and turn to see what is on the CV, and if your CV is not targeted, it gets tossed! So your covering letter can be the make or break!



Remember, we don't want to just dump you with some templates and leave you on your own. We consider this unethical! Writing a good CV is only the first step - you have to address two more, (i) writing the covering letter and - when your CV has impressed the potential employer - (ii) performing an interview.

Covering letters in some ways can be considered more important than CVs. One of the reasons is that you have the complete flexibility to highlight whatever you want in your covering letter. This allows you direct the potential employer to what makes you the best candidate. There is a certain style and model upon which successful and impressive covering letters are built. We are giving you the additional bonuses below to help you complete this part of your career-building with ease.


-- FREE BONUS! #6
How To Write A Powerful Covering Letter To Win Interviews Every Time!


Most people forget that the covering letter is the introduction to the CV or resume, and not the other way round. The covering letter has just as much importance and potential impact upon an employer's decision to interview, as the CV or resume itself. Your's Free!

-- FREE BONUS! #7
Ten Covering Letter Templates Ready to Use!


Not sure how to start or end your covering letter! Or what to tell the employer? These templates are brief and concise with good opening statements and contain the ingredients of a good and powerful letter. The covering letters can be used by graduates, experienced professionals, and those applying for jobs through recruitment agencies. Using these templates and the additional knowledge in the excellent bonus article on writing cover templates (see BONUS! 1) you will be able to prepare VERY powerful cover letters to go with your CV / Resume. Your's Free!


Wait... After a Great CV and Covering Letter, You Will Be Getting Interviews!!

Jobseeker, we are extremely confident that you will be landing interviews after you have mastered the art of writing highly targeted CVs... but what about the interview itself?



"How To Win The Job You Interview For -- Without
'Interview Jitters', Making An Embarassment Of
Yourself, Or Being Caught Out By
Tricky Interview Questions"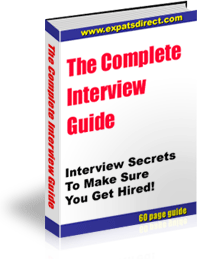 -- Just released: By demand from our customers, a brand new bonus for our career package: The Complete Interview Guide - helps you to give a commanding performance and to win the job of your dreams... 60 pages of Interview Secrets...

After you have won an interview using the knowledge and techniques you will need to prepare for the final hurdle... the interview. These are the ways in which you will benefit from this guide:

Know the intention behind every interview question so that you answer appropriately


Know how to research any employer


Know how a typical interview proceeds from beginning to end


Know how to prepare physically, mentally and practically for any interview


Know how to behave, speak, dress and sit during an interview - all with style


Know how not to behave, speak, dress and sit during an interview


Know how to listen to and answer questions intelligently


Know how to avoid common and easily made mistakes that destroy your chances


Know how to keep your nerves under control - a great life-skill in itself


Know to deal with all types of interviews such as phone, group, stress and panel interviews


Know how to end an interview in a diplomatic and professional way, no matter how it went

Now listen very carefully...



A cv only gets you to the interview... it's your performance
at the interview that wins the job...


Equipped with the right knowledge, you can come out trumps in any job interview you attend - without sweaty palms, without a shaky voice, and without being stumped by trick interview questions.

You can master the most important job interview skills in a very short time by having the knowledge of job interview professionals at your finger-tips. You can know beforehand all the questions you could be asked.

Using this knowledge you could potentially multiply your chances of getting the job. It is even better if most of the other candidates do not know how to handle interviews. Your chances will multiply again.

The Complete Interview Guide is available to you immediately when you purchase the Career Package today. Some of the job-winning tips and techniques you will learn and implement:

The 5 things all interviewers want to know about you


Why knowing this will give you a great advantage in performing well


How knowing 4 simple facts will make you enter the interview with confidence and esteem


7 quick facts about interviews to motivate you to "get into shape"


5 ways in which you can be interviewed


The 2 steps involved in the methodology of preparing for an interview


How interviews are structured and the 6 areas about you which will be probed


The 6 skills areas the interviewer is determined to identify in you


How to present your skills areas using the 3A's approach - a great technique for presenting you as an achiever


The 7 types of questions interviewers will be asking


Why knowing these types of questions and the purpose behind them will result in your success


Why the employer looks not just at what you are saying, but also what you are not saying


The exact behaviour, physical and mental, you have to exhibit in the interview to avoid being sent home without a job


How to tackle stress and interview nerves


6 selection methods used by employers


A list of over 200 questions that you can be asked in an interview including:



Warm up questions
Work history questions
Job performance questions
Education and training questions
Career goal and objective questions
Organization specific questions
Self-assessement questions
Decision-making questions
Motivation and leadership questions
Management, supervisory and conflict resolution questions
Communication skills questions
Stress and pressure question



Illegal questions that interviewers might ask and how to tackle them


The 4 types of interviewers you will be facing


Questions to ask the interviewer that will create a fantastic impression


6 categories containing over 50 questions you can ask


Questions you should definitely not ask - or risk losing the job!


4 great questions you should ask to extract valuable information about the nature of the job and the employer's organisation


4 things you should not do an interview


18 things that really irritate interviewers


14 questions to help you review your performance

What Value Can You Put To Expert Guidance?

Dear Jobseeker, I am sure you know the value of expert guidance and instruction. It's not an exaggeration to say that in many circumstances it can be priceless. If you win a job as a result of acquiring the professional know-how to do so, then a small investment in purchasing all-round guidance on how to win your dream job has got to be worth a fairly large equivalent of your salary.

This package is worth hundreds of pounds in consultancy but it is priced at only £39.95 (GBP). However, if you purchase today you will get the package for only £39.95 £27.95, a whopping 30% discount.

Dear Jobseeker, with:
the CV templates package,
the E-Book on writing winning CVs,
the covering letter package,
all the bonus articles packed with insider tips and techniques,
and the complete interview guide,
you can be on your way to winning your desired job.



Purchase now by completing the form below

There is currently

a 30% discount

available for a limited time only.

And there will definitely be another price increase, so don't delay...

INSTANT ACCESS - INSTANT DOWNLOAD £39.95 £27.95 (till 25th June only)

You will be able to download the complete package in less than a minute. Even if its 2:00 AM!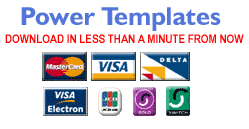 Please complete the form below:
It was great, inspirational and uplifting to know how such small changes can improve one's cv. Thanks for the help guys.

Ian Sammons
11th February 2005


Download Instructions: Once you have completed your purchase, click on the following link to immediately download your career-building package. Click Here to Download Your Package



P.S. You can start downloading in less than a minute from now.



P.P.S. You will have immediate access to the CV Templates, the Covering Letters, all the Bonus Articles, the CV Writing E-Book and the Interview E-Book. You will come to know the tips and techniques known only to CV Writing professionals and will definitely acquire a distinct advantage over other candidates with this knowledge...



P.P.P.S. We are always adding new bonuses and additional content to this excellent package. As a customer you will receive each and every addition we make totally free of charge! This includes new templates, instructional articles and other useful materials. We intend to make this site a complete careers development resource centre, and by purchasing today, you will have access to everything we will be adding in the future - the total value of which can easily be several hundred pounds, making your purchase today, a really great investment.